We're very proud to offer four walking tours of Lovecraft's College Hill, led by some very well-versed Lovecraftian scholars and local guides, and organized by Lovecraftian geographer Donovan Loucks. These tours will lead you past Lovecraft's last two homes as well as over 30 sites described in "The Shunned House", "The Call of Cthulhu", The Case of Charles Dexter Ward, and "The Haunter of the Dark". Each tour takes up two programming slots (3 hours) and costs $12 per person. Here are the times the walking tours are taking place:
| Day | Time Slot | Tour Guide |
| --- | --- | --- |
| Thursday, August 18 | 2:00 p.m. to 5:00 p.m. | Rory Raven |
| Friday, August 19 | 9:30 a.m. to 12:30 p.m. | Donovan Loucks |
| Saturday, August 20 | 9:30 a.m. to 12:30 p.m. | Jason Eckhardt |
| Saturday, August 20 | 3:30 p.m. to 6:30 p.m. | Rory Raven |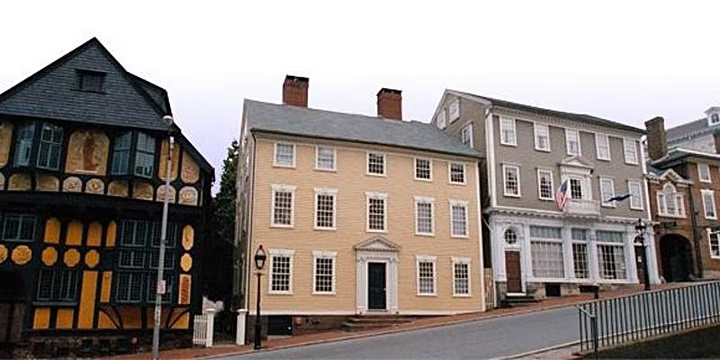 Tips for Visitors
Tickets: Only 25 tickets will be available for each walking tour. If tickets are sold out for a walking tour, additional visitors may be permitted on the tour at the discretion of the tour guide. However, those who pre-purchase tickets will be allowed on the walking tour before "standby" visitors.
Refunds: Should your plans change, you may request a refund no later than 48 hours prior to your tour. In addition, if we must cancel a tour due to inclement weather or because a guide becomes unable to lead the tour, we will make every effort to refund your money. In addition, we reserve the right to substitute tour guides if some unforeseen circumstances arise.
Check-In: Walking tours depart from the lobby of the Providence Graduate. Arrive at the departure point at least five minutes before your tour is scheduled to depart. Present your ticket to your tour guide, who will check your name off the attendance list.
Tour Length: The linear distance of the walking tour is 2½ miles. Merely walking this route—and not stopping at any of the sites—will take about an hour. Though the walking tour is 2½ miles in length, visitors will also be ascending College Hill, attaining a height about 175 feet (or about 17½ stories) above the entrance to the Providence Graduate.
Preparation: Given the scope of the walking tour, people with infirmities are discouraged from attending. It is highly recommended that you wear comfortable shoes. Also note that, while summer in Providence can be very pleasant, occasionally both the temperature and humidity can rise to a very uncomfortable point. As such, keeping hydrated is important. However, note that there are neither water fountains nor public restrooms along the tour route. And don't forget to bring your walking tour map from the program guide! If you're unable to attend one of the scheduled tours, by all means explore Lovecraft's College Hill on your own using the walking tour map!
Privacy Note: Many of the buildings on the walking tour are private residences. Feel free to enjoy the walking tour from the sidewalks and rights-of-way, but please respect the privacy and property of the current owners.
Your Guide: Finally, be respectful of your tour guide. Remember, your tour guide is working to provide you with the best experience possible. Keep up with your guide and don't talk while your guide is addressing the group—but please feel free to ask questions. And if you really enjoyed your tour, show your appreciation by tipping your guide!
Bus tours?: Unfortunately, this year, we were unable to partner with our usual crew from Experience RI. We hope to bring back the popular bus tours next time!
Purchase Tour Tickets
Walking tour tickets are just $12 each, which provides you with a bottle of water and a tour led by an informative guide. To purchase tickets for a given walking tour, use the following link, simply select the quantity for the tour you'd like, and then click on "Checkout"!
https://www.eventbrite.com/e/walking-tours-necronomicon-providence-2022-tickets-390498249777