The Fifth quasi-Biennial
Dr. Henry Armitage Memorial Scholarship Symposium
of New Weird Fiction and Lovecraft-Related Research
NecronomiCon Providence convention in Providence, RI
19-21 August, 2022
Location: Omni Hotel, Providence – Bristol/Kent Room, 3rd floor
Symposium Chair: Prof. Dennis P. Quinn, Cal Poly Pomona, CA and Editor of Lovecraftian Proceedings (Hippocampus Press)
Symposium Co-Chair: Elena Tchougounova-Paulson
*SEE 2022 SCHEDULE BELOW*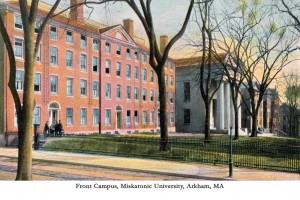 The Fifth Biennial Dr. Henry Armitage Memorial Scholarship Symposium of New Weird Fiction and Lovecraft-Related Research


Providence, RI, 19-21 August 2022
Bristol/Kent Room, Omni Hotel, 3rd floor
Symposium Chairs: Prof. Dennis P. Quinn, Cal Poly Pomona, CA and Elena Tchougounova-Paulson, Co-Editors of Lovecraftian Proceedings (Hippocampus Press)
Friday 8/19
9:30-9:45
Welcome and Opening Remarks
Niels-Viggo S. Hobbs, Welcome to the Armitage Symposium
Dennis P. Quinn and Elena Tchougounova-Paulson, Opening Remarks
Friday – 9:45-10:45am
Reconsidering At the Mountains of Madness, Session Chair: Dennis P. Quinn
Benjamin Breyer (Barnard College, NY), "Relatively Obscure Men": Continental Drift Theory, American Science and the Acceptance of Radical Ideas in At the Mountains of Madness
Christian Roy (Independent Scholar, Montréal, QC), A Single Tale of Two Cyclopean Cities? Reading Lovecraft's Intertwined Narratives of Quebec City and Antarctica as a Polar Shift in Outlook
Friday – 11:00am-12:15pm
Life, Death, and Science, Session Chair: Edward Guimont
Fred S. Lubnow (Independent Scholar, Exton, PA), Kenneth Sterling and Beyond the Walls of Eryx
Joshua D. King (University of Maryland/ Maryland Poison Center), Poisoning and Weird Fiction: Historical and Medical Correlations
Nicolette A. Williams (University of Stirling, Scotland), Inappropriate Death and the Body as Object in "The Hound," "Herbert West – Reanimator"
Friday 3:30-4:45pm
Philosophy, Religion, and Esoterica, Session Chair: Dennis P. Quinn
Lorin Geitner (Chapman University, CA), Gnosticism, Epicureanism and Deism in H. P. Lovecraft
Justin Sledge (Independent/YouTube Scholar), Lovecraft's Occult Literary Landscape: Mentioned Historical Works and the Grimoire Revival
Friday 5:00-6:15pm
Ecology and the Anthropocene, Session Chair: Elena Tchougounova-Paulson
Ian Fetters (Cal Poly San Luis Obispo, CA), Undying Earth: Extinction Romances in the Age of Anthropocene
Matthew Holder (Saint Louis University), Charting Ecologies of Violence through Algernon Blackwood's "The Willows"
Ray Huling (UMass Amherst), Lovecraftian Ecology: Ernst Haeckel's Jellyfish Brides and Lovecraft's Alienworld Homesteads
Saturday 8/20
9:30-10:45am
Lovecraftian Aesthetics I, Session Chair: Troy Rondinone
Michał Choiński (Jagiellonian University, Kraków, Poland), Beyond Heaven and Hell – on H. P. Lovecraft's Grotesques
Joseph Sherren (Independent Scholar), Art and Horror: Art to Elicit Fear and Disgust from Pickman's Model
Alexander Lee (Independent Scholar), Fate Is Cruel & Mankind Pitiable: Metaphysical Pessimism and the Architecture of Weird Worlds.
Saturday – 11:00am-12:15pm
Lovecraftian Aesthetics II, Session Chair: Elena Tchougounova-Paulson
Kyle Gamache (Community College of Rhode Island, Knight Campus), Window to Madness: Creativity in Lovecraft's Fiction
Nathaniel R. Wallace (Ohio University), Cosmic Sounds in Literature and Visual Media: A Catalog of Typologies and Related Affects
Heather Poirier (Independent Scholar), Toward a Definition of Lovecraft Punk
Saturday – 3:30-4:45
The Lovecraftian Other I, Session Chair: Joshua D. King
Byron Nakamura (Southern Connecticut State University), The Classical Stain: Lovecraft's Racism and Greco-Roman Antiquity
David E. Ballew (Chowan University, North Carolina), Cthulhu Conspiracy: Red Scare, Xenophobia, and Lovecraft's Fictional Cults
Joshua Shockley IV (Old Dominion University, Virginia), Hereditary Memories of Fright: The Gaming Industry's Response to Lovecraft's Xenophobia
Saturday – 5:00-6:15
The Lovecraftian Other II, Session Chair: Fred S. Lubnow
Edward Guimont (Bristol Community College, MA), The Colonialism of Cthulhu
Peter Muise (Independent Scholar), Naked Sailors in a Swamp: Sea Men and Homoerotic Initiations in Three Lovecraft Tales
Troy Rondinone (Southern Connecticut State University), What Lies Beneath: Creature from the Black Lagoon and Lovecraftian Horror
Sunday 8/21
9:30-10:45am
Comparative Studies, Session Chair: Ian Fetters
Elena Tchougounova-Paulson (Independent Scholar, Cambridge, UK), The Mystery of the Threshold as a Parable of Horror in Works of Leonid Andreyev and H. P. Lovecraft
Zac Rutledge (Peninsula College, Port Angeles, WA), Lovecraftian Elements in Cormac McCarthy's Blood Meridian
Robert Ames (Harvard University), Lovecraftian Elements in the Philosophy of Nick Land
Sunday – 11:00-12:15
Reconsidering Cthulhu, Session Chair: Byron Nakamura
Michelle Saavedra (Suffolk County Community College, NY), "The Call of Cthulhu" and the Rhetoric of Things
Sophie Violet Gilmore (Harvard University), Faint Drumming on the Distant Hills: Lovecraft, Aotearoa New Zealand, and the Postcolonial Politics of "The Call of Cthulhu"
Michael A. Torregrossa (Independent Scholar), Cthulhu and the Comics? Accessing Representations of Lovecraft's Mythos in Comics and Comic Art
Sunday – 3:30-4:45pm
Reconsidering Lovecraft & His Influence, Session Chairs: Heather Poirier
Riley Chirrick (Brown University, S. T. Joshi Research Fellow), Asexual Possibility in the Life and Fiction of H. P. Lovecraft
N. R. Jenzen Jones and George Colclough (Independent Scholars), Firearms in the Life & Works of H. P. Lovecraft
Daniel J. Holmes, (New England Institute of Technology), Digital Dream-Quests: An Intercultural Monograph on Lovecraftian Gaming
About the Symposium:
The Lovecraft Arts and Sciences Council (the organizer of NecronomiCon Providence) hosts the Armitage Symposium to showcase academic works that explore all aspects weird fiction and art, from pop-culture to literature, including the writings and life of globally renowned weird fiction writer, H.P. Lovecraft. Topics of value include the influence of history, architecture, science, and popular culture on the weird fiction genre, as well as the impact that weird and Lovecraftian fiction has had on culture.
In past years, the Armitage Symposium has aimed to foster explorations of Lovecraft's elaborate cosmic mythology, and how this mythology was influenced by, and has come to influence, numerous other authors and artists before and since. Additionally, we promote all works that foster a greater, critical, and nuanced understanding weird fiction and art (and related science fiction, fantasy, horror, etc.).
Selected talks will be presented together as part of the Armitage Symposium, a mini-conference within the overall convention framework of NecronomiCon Providence, August 18-21, 2022. Presenters will deliver fifteen to twenty-minute oral presentations summarizing their thesis, and are invited to submit a brief manuscript for possible inclusion in a proceedings publication.
For more information on the Armitage Symposium, or the overall convention and the themes to be explored, please visit our website: necronomicon-providence.com – where we will post updates and details as they develop over the final weeks leading to the convention. In addition to these talks, NecronomiCon Providence will feature numerous traditional panels and presentations given by many of the top names in the global weird renaissance.
The original 2022 CALL FOR PRESENTATION PROPOSALS can be downloaded here: Armitage-Symposium-CFA-2022-2.pdf